I'm a hopeless cook, but there are some things I want to have a go at - chutney, for instance, and sloe gin.
Scroll down for:
Apple Chutney
Blackberry Gin
Bread Pudding
Bread and Butter Pudding
Damson Cheese
Damson Chutney
Damson and Custard Tarts
Damson Gin
Damson Sauce
Fruit Omelette
Marrow
Rhubarb Gin
Slimmers Chocolate nibbles (!)
Sloe Gin
Smoking Bishop (mulled wine and port!)
(note recipes are NOT in this alphabetical order!)
~ ~ ~
I often find that when I am busy working - engrossed somewhere in the early 18th Century and the chapter I am writing for my next book, I really don't want to be torn away from my desk in order to produce lunch or dinner - so I am collecting a few very quick, very simple recipes:
Fruity Omelette
(a Fruitomlette?)
This is SO quick and easy - although probably more ideal for lunch than a dinner, or maybe an 'afters'?
for one person
2 eggs
2 tablespoons milk
pinch of cinnamon
knob of butter or a drizzle of oil
honey (optional)
a generous handful of whatever fruit you fancy - raspberries, strawberries, blueberries, bananas....
step 1 : whisk the eggs in a bowl
step 2 : add the milk and cinnamon
step 3 : give another good whisking
step 4 : melt the butter (or heat the oil) in an omelette pan or small frying pan (butter is better because it gives the omelette a lovely golden colour) The butter should be 'foaming'
step 5 : Pour in the egg mixture - as it starts to set on the base gently push the sides of the omelette towards the centre of the pan allowing the runny egg to flow to the edge of the pan. Continue to do this until the underneath is golden and the top is softly set.
step 6 : slide onto a plate (keep warm
in the oven if making more servings for others)
step 7 : drizzle on runny honey, if required. Scatter with the fruit of your choice, and either fold the omelette in half or leave as it is. If serving to others, simply put bowls of fruit on the table to 'help yourself' to a topping. For extra yumminess - how about a scoop of vanilla ice cream, or clotted cream?
step 8
: enjoy!
Find more quick recipes
HERE on KEEP CREATING
BREAD PUDDING
Serves: 6
225g (8oz) stale bread, soaked in water or milk for at least half an hour
50g (2oz) caster sugar
1 level teaspoon mixed spice
175g (6oz) mixed fruit
75g (3oz) cooking margarine or butter, melted
1 egg beaten
2 tablespoons milk
extra sugar for topping
Method
Prep:10min › Cook:1hr › Extra time:30min soaking › Ready in:1hr40min
Preheat oven to 180 C / Gas 4.
Squeeze the bread that has been soaking for 30 minutes to remove excess liquid; place in a bowl.
Add sugar, mixed spice and fruit; mix well. Pour in melted margarine or butter. Add beaten egg and milk; mix well together.
Grease a small tin and pour mixture into it. Flatten the top with a fork.
Bake in preheated oven for 1 hour.
Remove from oven and sprinkle with caster sugar. Serve.
BREAD and BUTTER PUDDING

Serves: 7
100g sugar
1 teaspoon ground cinnamon
5 slices of any bread
Butter
3 handfuls sultanas
500ml milk
2 eggs
Method
Prep:10min › Cook:30min › Extra time:5min resting › Ready in:45min
Preheat oven to 190 C / Gas mark 5. Lightly grease a baking dish.
Mix together the sugar and cinnamon.
Butter 5 slices of bread, cut in half.
Layer the bread in the dish adding a handful of sultanas and the sugar mix as you go, covering each slice.
Mix the milk and eggs together and whisk.
Pour over the bread and leave to absorb for 10 minutes.
Bake in the oven for 35 to 45 minutes, until the pudding is set and browned.
Tip
It looks like you have added too much milk, you haven't. This pudding has lots of sugar-tastes bloody good though!! The drier the bread, the more butter I put on.
~ ~ ~
Below are recipes for various gins.
Apparently these will last for months. Hah, not in this house they won't!
DAMSON GIN
500g damsons
250g golden caster sugar
1lt bottle gin
Method
Rinse and pick over the damsons to remove any leaves and stalks, then pat dry, tip into a freezer bag and freeze overnight. The next day, bash the bag of damsons a couple of times with a rolling pin and then tip the lot into a 2-litre Kilner jar, or divide between 2 smaller jars.
Pour in the sugar and gin, and put the lid on. Shake well. Each day for a week, give the jar a good shake until all the sugar has dissolved, then put it in a cool, dark place and leave for 2-3 months.
Line a plastic sieve with a square of muslin (or use a coffee filter in a cone for a really refined gin) and strain the damson gin through it. Decant into clean, dry bottles, seal and label. The gin is now ready to drink, but will improve and mature over time – it will keep for over a year, if you can wait that long.
SPICED DAMSON CHUTNEY
INGREDIENTS
3 lb (1.35 kg) damsons
1 lb (450 g) seedless raisins
1 lb (450 g) dark soft brown sugar
1 lb (450 g) demerara sugar
2 tablespoons sea salt
2 heaped teaspoons ground ginger
2 small cinnamon sticks
1 oz (25 g) allspice berries
1 dessertspoon cloves
2 pints (1.2 litres) malt vinegar
1 lb (450 g) cooking apples (no need to peel)
3 largish onions
3 cloves garlic
EQUIPMENT
You will also need a preserving pan, or a very large, heavy-based saucepan; a 12 inch (30 cm) square piece of muslin (or gauze); some string; and six 1 lb (350 ml capacity) jars, sterilised.
METHOD
You've got two options here.
One is to halve the damsons, slitting them down the natural line of the fruit and twisting out the stones – very tedious. The other is to stew them gently with ½ pint (275 ml) of the vinegar and then, wearing rubber gloves, remove the stones as they separate themselves from the flesh - also tedious but, either way, it will only take about 25 minutes and I promise you it is well, well worth it.
Place them in a preserving pan, then core the apples but leave the peel on, and finely chop them in a processor. Then process the onions, adding both these to the pan. After that, crush the garlic and add that, followed by the ginger, raisins, sugar and the (remaining) vinegar. Then sprinkle in the salt and stir everything thoroughly. Now wrap the cinnamon, allspice and cloves in the muslin (or gauze) and tie the top loosely with the string to form a little bag, which should then be tied on to the handle of the pan and suspended among the rest of the ingredients.
Now bring everything to the boil, then lower the heat and let the chutney simmer very gently for 2-3 hours, stirring it occasionally and rather more often towards the end to prevent it sticking to the bottom.
When almost all the vinegar has disappeared and the chutney has thickened to a soft consistency, do the channel test - if it is ready, when you draw a channel with a wooden spoon across its surface, it will leave an imprint for a few seconds without filling up with vinegar. While it is still warm, pour it into the hot, sterilised jars (see below), filling them as full as possible. Cover each with a waxed disc and seal tightly with a vinegar-proof lid. Label when cold and store the chutney in a cool, airy cupboard, leaving it to mellow for at least 3 months before eating.
Note: To sterilise jars, wash the jars and lids in warm, soapy water, rinse well (again in warm water), then dry them thoroughly with a clean tea cloth, place them on a baking tray and pop them in a medium oven, gas mark 4, 350°F (180°C) for a minimum of 5 minutes. Add their contents while they are still hot.
RHUBARB GIN
apologies for the ad at the top
Sloe Gin, the ruin of old women. (LOL) Or tasty cooking ingredient? Either way one thing is for sure, its fantastic taken out in a hip flask and every sip is warming and gratifying on a brisk winters outing. Sloe Gin can be, and is used as an ingredient. It is included within many cocktail recipes including; The Moll Flanders, Ruby Fizz, Sloe Comfortable Screw and unsurprisingly the Blackthorn. But is also readily used as a cooking ingredient to flavour; Sloe Gin Jelly, Plums roasted with Sloe Gin or a simply used to flavour Gamey sauces. If you use it for cooking or simply love the taste this recipe is simple, delicious and will last for years – if you let it!
Sloe
1kg Sloes or Blackthorn berries (post frost)
It's a fiddly job, but someone has got to do it! The first job is to prick every individual Sloe with a pin or needle and place in large bowl. Add the Gin and Sugar to the bowl and give it a good stir.
Now, you are going to need some sort of container that you can lid, big clean jars, demi johns, large bottles with lids what ever you have got and can make watertight. Decant the Gin, Sloe and Sugar mix into your container making sure that the Sloes get evenly distributed through all of the containers.
Be patient… You have to store these little fruity containers up or 3 months. This is going to give the fruit time to impart its flavours into the Gin. This isn't a make and leave item either, you have to take care of it and turn it every other day.. Hey, if you miss a day or two every now and then now worries just make sure you give them a little mix up when you do remember (Make sure its quite regular though!).
Through a double thickness of muslin strain the Sloe mixture (do not squeeze the fruit) and allow gravity to do the rest. Repeat this process several times until the mixture runs clear. Now decant again into clean bottles and that's it!
You can drink straight away or even better leave it for a year! It will literally last for years and years and over the years can you build up a nice array of vintages.
Fantastic drink that requires patience, real patience!! But is soooo worth it!
Here's a bit more and a slight alternative gleaned from the pages of the wonderful Hugh Fearnley-Whittingstall from River Cottage
Other hedgerow drinks to consider are blackberry brandy (same idea, using dry ripe blackberries and a reputable brandy) and blackcurrant rum, which is past its season now but good to know about once you've made sloe gin. Also bullace and damson gins, both of which I have on at the mo…. Damsons you'll know; bullaces are small bitter wild plums, in between sloes and damsons for size. Sloes have lethal thorns, bullaces & damsons don't. If you do a damson drink, you can then stone the damsons and add them to a crumble with apples as they are sweet and edible. Sloes and bullaces will pucker your faces and if the wind changes, you'll stick.
I hope this helps- the key thing is to pick the sloes before some other sod gets near them
Sloes are the fruit of the blackthorn tree and are a great fruit to pick in the autumn. One of the last fruits to remain on the trees before winter, they allow the forager plenty of opportunity to harvest.
The blackthorn (named for its thorny dark skin and bark) is covered in white flowers in early spring. It's great if you can identify it at this stage so that you can be ready to keep an eye on the ripening fruit in the autumn! It is often the first tree to flower, and can grow up to 12 feet tall. Its fruit, the sloe, looks like a small damson. The dark purple berries have a similar dusty complexion.
The blackthorn is found throughout Britain in hedges, parkland, woods, verges and scrubland. City dwellers are not precluded from enjoying the sloe forage!
After the first frost! The Sloe berry is not a pleasant tasting fruit, as it is very bitter indeed. After the first frost the fruit is ripe and its bitterness reduces slightly. The fruit is generally good for picking between September and early November, but harvest time is weather dependant.
Gloves! Whilst the fruit can be picked without too much prickling, the gloves will help avoid 'foragers finger'.
Pick over the fruit and discard any that have holes in (they are being eaten from within!) or that are past their best - they get a bit wrinkly. They do really well frozen and will last a few months.
Method; How to make sloe gin
Recipes for sloe gin or vodka ask for each sloe to be pricked with a pin. Frankly this is an unnecessary labour. A night in the freezer has the same effect, splitting the skin.
Sloe gin or vodka is a wonderful Christmas drink and it could be argued that any other use of the mighty sloe is a sin. Even if you don't like gin, it is worth making as it tastes more like a liqueur, as you can make it as sweet as you like.
For every pound of fruit add 8oz of sugar and a pint or so of gin or vodka (don't worry too much about the proportions as you can add more sugar or spirit later). Leave it until Christmas, shaking the bottle every couple of days.
After a few months (the longer the better, although it tends never lasts long enough to test this theory!) strain off the sloes and bottle the gin. The sloes can be stoned and made into wonderful liquor chocolates.
Sloes also make a lovely tart jelly to go with game or with your Christmas dinner as an alternative to cranberry. They can also be used in autumn pudding or jam, but do need quite a bit of sugar due to their bitterness.
~ ~ ~
DAMSON SAUCE
500g damsons
125g caster sugar
wonderful with cheescake or duck
To make the sauce, put the damsons in a pan with 200ml water. Bring to a simmer and cook gently, stirring regularly, for 10-15 minutes, until the fruit has collapsed and the stones have come free. Tip into a sieve and rub through with a wooden spoon to remove the stones and skins. Sweeten the damson purée by whisking in sugar to taste – how much sugar you need will depend on the tartness of the fruit and your personal taste – and leave to cool.
~ ~ ~
DAMSON CHEESE
This traditional fruit "cheese" is a very thick, sliceable preserve that is immensely good served with actual cheese. It keeps for ages. Makes 850-900g.
2kg damsons
Around 750g granulated sugar
Put the damsons in a large preserving pan, add a couple of tablespoons of water and bring slowly to a simmer, stirring as the fruit begins to release its juices. Leave to simmer until completely soft. Tip the contents of the pan into a sieve and rub it through to remove the stones and skin, leaving you with a smooth damson purée.
Measure the purée by volume. For every 500ml, add 350g sugar, and combine in a large, heavy-based pan. Bring to a simmer over a low heat, stirring to dissolve the sugar, then cook gently, stirring regularly so it doesn't catch, until reduced to a thick purée. It's ready when you drag the spoon across the bottom of the pan and the base stays clearly visible for a second or two. This can take up to an hour of gentle, popping simmering and stirring.
Pour the "cheese" into very lightly oiled shallow plastic containers and leave to cool and set. It will keep almost indefinitely in the fridge. Serve in slices with bread and cheese, or, if you fancy, cut into cubes, dust lightly with granulated sugar and serve as a petit four.
~ ~ ~
DAMSON JAM

I've found it best to soak overnight then cut the fruit as if you would a peach & take the stone out. Put the stones in a saucepan & simmer alongside the 'jam' then drain through a sieve & add the liquid to the main pan.
Ingredients
1.5 kg Damsons, stoned

1.875 kg Granulated Sugar

450 ml Water + 20 ml to simmer with damson stones
Instructions
Cook the damsons in a preserving pan with the water gently for 20 minutes, stirring occasionally.

At the same time cook the stones in a separate medium sized pan with 20mls of water for 20 minutes.

When the stones have cooked put them in a sieve and squeeze with the back of a wooden spoon for a couple of minutes. (There will be clear liquid and a little puree, no need to squeeze until dry).

Add this liquor to the cooked Damsons and then add the sugar.

Heat slowly until all the sugar has dissolved stirring with a wooden spoon.

Bring to the boil slowly and then time a rolling boil for 13 minutes (make sure you stir with a wooden spoon regularly to stop it catching and burning).

Take off the heat and test a teaspoon of jam on a cold plate, leave for a couple of minutes and if it crinkles when your finger is pushed through it it's ready.

If not boil for 2 more minutes at a time repeating the test.

Once ready pot up into sterilised jars and put on a clean lid. Makes 2.1 ltrs or 8 jars of varied sizes.
Notes
Put 2 small plates in the freezer before you start.
Sterilise jars by washing or dishwashing, filling with boiling water, emptying and then placing in oven for 20 minutes at 140°C then leave in oven until jam is ready. Clean the lids, sterilise with boiling water and then leave to drain.
~ ~ ~ ~
And for something different:
BLACKBERRY GIN (or Brandy, or Whiskey, or Rum.....
The full fruitiness of the blackberries means you don't need to balance this with quite so much sugar as some other fruit liqueurs. One big warning though – make sure you DO strain out the fruit, and don't leave it for any more than 3 months in the bottle or else the contents start to be overpowered by a 'woody' taste.
Makes about 750 ml
250g+ Blackberries, washed
70cl Gin (reasonably good quality London gin preferred, e.g., Gordons)
110g Sugar
Put the fruit into a sterilised Kilner jar or 1 ltr bottle and add the sugar
Top the jar up with the Gin, seal and shake well
Over the next couple of days, shake occasionally until the sugar has dissolved
Store in a dark corner to mature for 3 months only
Strain into a large bowl through a layer of muslin – leave to drip and do not squeeze!
Taste for sweetness
Bottle into sterilised glass bottles and add a little extra sugar if required, shaking occasionally until dissolved
Leave to rest for around a month before drinking.
recipe taken from James's Recipes
~ ~ ~
APPLE CHUTNEY
These two recipes are for apple chutney, but I think you can just about make Anything Chutney
2lb apples, cored and chopped
4oz sultanas, raisins or chopped dates
·
Put all the ingredients into a preserving pan. Slowly bring to the boil until the sugar has dissolved.
·
Simmer for 1½-2 hours, stirring from time to time to stop the chutney sticking to the pan.
·
When it is very thick and you can draw a wooden spoon across the base of the pan so that it leaves a channel behind it that does not immediately fill with liquid, the chutney is ready.
·
Turn into sterilised jars, seal and cool.
·
Store in a cool, dark cupboard for two to three months before eating.
I like the sound of this recipe - nice and easy & straightforward
¾lb sugar (½ white ½ brown)
·
Use a bigger pan than you think you could possibly need
·
Dice the apples. This recipe calls for a lot of apples, so chop them first; a little browning won't hurt. I didn't peel them, as I like the added texture of the softened apple skin (and also because I'm lazy).
·
If your vinegar isn't spiced to start with, heat vinegar gently with a selection of whole spices (I used black pepper, cinnamon, coriander seed, cumin seed, and nutmeg), then strain before adding the onions.
·
Chop onions and simmer in vinegar until soft.
·
Once onions are soft, add the apples to the pan and cook on a low heat until the apples are tender but not mushy. The vinegar probably won't cover the apples, so put the lid on the pan for this stage to retain the moisture.
·
Add the remaining ingredients, stir thoroughly, and simmer for at least two hours with the pan uncovered.
·
Decant into sterilised jars (warmed with boiling water), and seal while still warm. I tend to use old jam jars, and put a sheet of waxed paper between the jar and the lid.
~ ~ ~
SLIMMERS' CHOCOLATE NIBBLES
Ferrero Rocher might be delicious but here's a great solution to fix that chocolate craving! (Which means you can eat lots more without breaking the bank!). Crush 10 Ryvita with a rolling pin, add 4 tablespoons of Nutella that's been warmed for 20 seconds in the microwave. Stir well and spoon into small bun cases and leave in the fridge to set. This should make about 28-30 scrummy treats at 1 Syn each (low calorie!) heaven!
~ ~ ~
DAMSON CRUMBLE
800g-900g damsons
50g light soft brown sugar
knob of butter
1-2 tbsp sloe gin (optional)
2 apples peeled, cored and sliced
Method
Heat the oven to 200C/180C fan/gas 6. Put the damsons into a pan with the sugar, butter and sloe gin if using (or a splash of water if not) and heat gently until the damsons start to give off their juices. Tip into the base of a large shallow gratin dish (about 25cm long) and stir through the apple slices.
Put all the crumble ingredients into a food processor with a pinch of salt, and using the pulse button, whizz until the mixture just starts to clump together. Don't whizz for too long or the mixture will stick together too much. Alternatively, rub the butter into the flour using your hands and then stir in the other ingredients.
Scatter the crumble over the damsons and bake in the oven for 30-40 mins until golden brown. Leave for about 15 mins before serving with custard or cream. Remember to warn everyone about the stones!
~ ~ ~
DAMSON AND CUSTARD TART
you can make your own pastry - but I use the 'ready-to-roll' - much easier and quicker!
You can also make custard from scratch - but I prefer tins!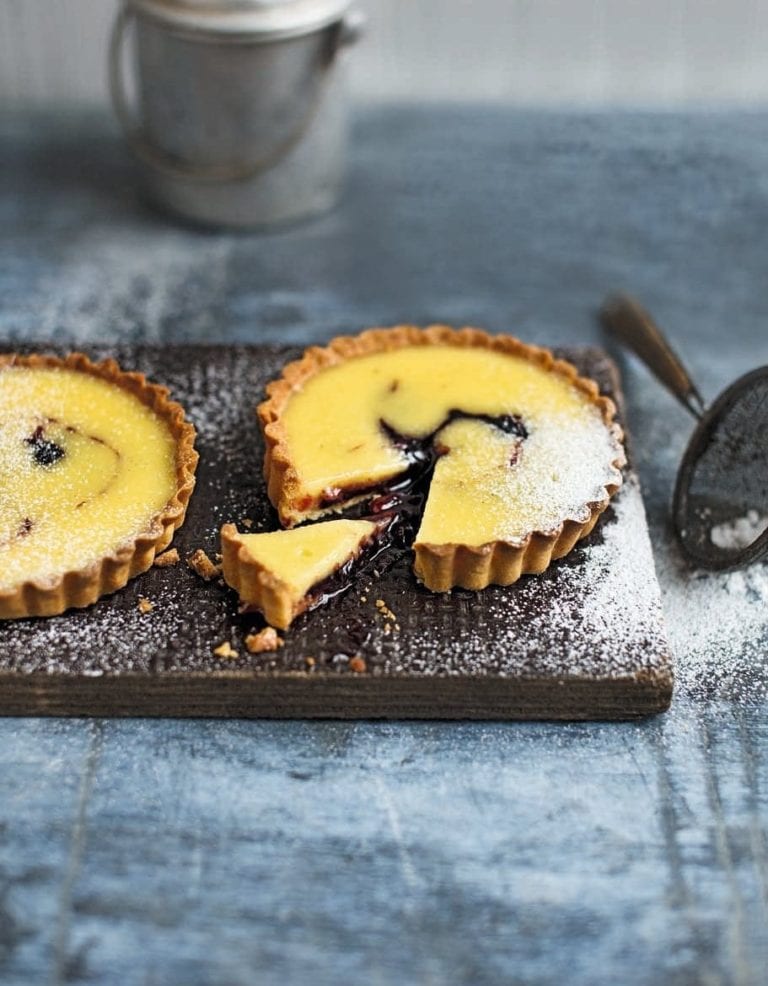 Ingredients
350g damsons
150g caster sugar
Icing sugar to dust
Method
Put the damsons and 150g of caster sugar in a pan with 200ml water.
Cook over a medium heat for 10-15 minutes until the fruit has softened and the stones are falling out. Push through a sieve into a bowl, pressing through as much of the pulp as you can.
Discard the stones and whatever's left in the sieve.
Put the damson purée back in the pan and bubble on the heat for a few minutes to form a thick, glossy sauce.
Cool.
I use a pre-made pastry-case
Pour the custard into the pastry cases.
Drop in the damson sauce and let it sink in.
Bake for 12-15 minutes until set but with a slight wobble in the middle
Leave to cool slightly
Serve warm or cold with any remaining damson sauce and a dusting of icing sugar.
SLOW COOKED MARROW and TOMATO
Ingredients
1 young marrow
(about 1kg)
4 tbsp olive oil
, plus a drizzle to serve
1 rosemary sprig, plus extra leaves chopped to serve
pinch of fennel seeds
2 red onions, finely sliced
½ fennel bulb
, sliced
2 garlic cloves, crushed
50ml white wine
500g tomatoes
, chopped
Method
Halve, deseed and chop the marrow into chunks. Toss in some salt and leave the chunks to drain in a colander for 30 mins to remove excess water.
Heat the olive oil in a large pan over a medium heat.
Add the rosemary and fennel seeds and cook for a few mins until the rosemary is sizzling. Add the red onion, fennel and a large pinch of salt, and cook for 10 mins until the onions are starting to colour and sweeten.
Add the garlic and cook, stirring, for another min.
Turn up the heat slightly, add the marrow and a good grind of pepper, and cook for 10 mins, stirring so it doesn't catch.
Deglaze the pan with the white wine.
Cook until it's evaporated, then add the tomatoes and red wine.
Stir to combine everything, then turn down the heat and cook, stirring occasionally, on the lowest heat for at least 35 mins, until the tomatoes have concentrated and the marrow has taken on all the flavours in the pan.
BAKED MARROW and CHEESE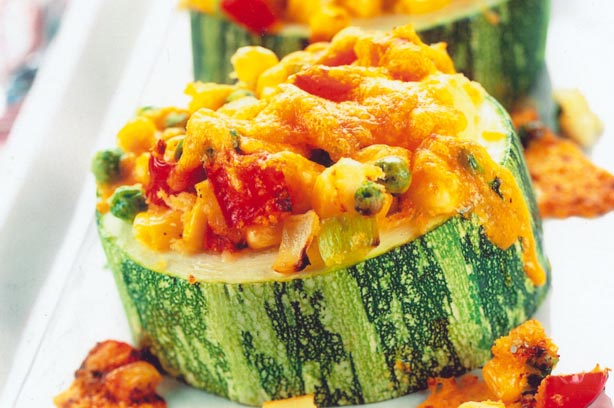 Ingredients
2 tablespoons olive oil
1 small onion, chopped
2 celery sticks, trimmed and chopped
1 red or yellow pepper, deseeded and chopped
50g (2oz) frozen sweetcorn
50g (2oz) frozen peas
50g (2oz) fresh breadcrumbs
100g (4oz) Lancashire or Cheshire cheese, crumbled or grated
1 tablespoon chopped fresh chives or parsley
salt and freshly ground black pepper
1 marrow, cut into 8 slices and deseeded
50g (2oz) Red Leicester or mature Cheddar cheese, grated
Top tip for making Baked marrow stuffed with two cheeses
Use your own choice of vegetables to customise this dish - for instance, if you don't like celery or peppers, use mushrooms instead.
Method
Preheat the oven to 200°C/400°F/Gas 6. Lightly grease a large baking dish or baking sheet with a teaspoon of the olive oil.
Heat the remaining oil in a large frying pan and sauté the onion, celery and pepper for 3 – 4 minutes, until softened. Remove from the heat and stir in the sweetcorn and peas. Reserve a couple of tablespoons of the breadcrumbs, then stir the rest into the vegetables with the Lancashire or Cheshire cheese and chives or parsley. Season.
Arrange the marrow slices in the baking dish or on the baking sheet. Pack with the vegetable mixture. Sprinkle with the reserved breadcrumbs and grated cheese.
Cover with foil and bake for 25 – 30 minutes, removing the foil for the final 10 minutes so that the tops brown.
~ ~ ~ ~~~~~~~~~~~~~~~~~~~~~~~~~~~~~~~~~~~~~~~~~~~
SMOKING BISHOP - a Mulled Wine from the past!
This recipe was sent to me by my dear friend Vara - I reckon my pirate, Jesamiah Acorne would like this winter warmer!
original recipe page can be found here
Smoking Bishop - A Mulled Wine & Port With Oranges
Smoking Bishop is a warm mulled wine and port drink, sometimes known simply as 'Bishop'. Out of all the mulled drinks around Christmas this one is my favourite. Bishop is made with oranges, or sometimes lemons, or sometimes both, with wine, port, spices and sugar, which is added according to taste – it received the name 'Bishop' from its purple colour, similar to a Bishop's formal attire – and 'Smoking' comes from the vapours rising when it is being mulled or heated.
Although Jonathan Swift, in the late 1600s, wrote about it, in his verse 'Oranges', the drink itself was made famous when Charles Dickens has a reformed Scrooge say to Bob Cratchit, (at the end of 'A Christmas Carol', 1843) "… we will discuss your affairs this very afternoon over a bowl of Smoking Bishop, Bob!" And indeed it is just the sort of drink you want to sit down with friends in front of a log fire with …
A Smoking Bishop is certainly full-bodied, and made with port (a fortified wine) it is at the top end of the mulled wine spectrum in terms of potency; although being made with bitter oranges and/or lemons it is also then sweetened to a preferred amount with sugar. I like it as it comes, tart and fruity, although I do serve Smoking Bishop to guests with a small bowl of sugar and a spoon so they can sweeten it themselves, as suggested in the 1836 recipe.
In terms of quality and character the monumentally aromatic and robust flavours of a Smoking Bishop hit the taste-buds at the back and the sides of the tongue, leaving the tip and center of the tongue devoid of any initial input into the equation – a sure sign of a hearty and 'mighty' mulled wine. One which will bring a rosy glow to the cheeks.
Smoking Bishop In A Christmas Carol
Smoking Bishop In A Christmas Carol
In a later edition of 'A Christmas Carol', published in 1907, E. Gordon Brown describes Smoking Bishop with the following passage: "The drink is made by pouring red wine, either hot or cold, upon ripe bitter oranges. The liquor is heated or "mulled" in a vessel with a long funnel, which could be pushed far down into the fire." And in an edition of 'Punch', published in 1848, they highly recommend it as part of a satirical diatribe, "… both egg-hot and elder wine must yield in their elevating and invigorating properties to a good Bishop."
The original recipes for Bishop are simple and direct, making a wonderful and tasty mulled drink which is easy enough to make up to serve straight away, or then cool, (re-cork in the empty bottles) to mature for a few days, before re-heating and serving. Maturing it for a few days takes the ragged edge off the Bishop, making for a very smooth and bright drink; although this in no way means it cannot be enjoyed after the initial mulling; the early ragged and piercing nature of a Bishop makes it in many ways a real 'classic' and a potent drink to enjoy on a cold night.
SMOKING BISHOP RECIPE
This recipe will make enough for about 10 small glasses, double the ingredients to make a large punch bowl to serve around 20 people. It can also be re-corked in the wine bottles once cool and be re-heated and drunk in small batches over a few days.
You can use just oranges (older, bitter varieties) or just a few lemons (making it an Oxford University 'Bishop') although this recipe gives the right balance and authentic taste using 6 modern variety oranges and two lemons, which is then sweetened to taste with sugar.
Recipe Ingredients:
6 large oranges
2 large lemons
120g of brown sugar (demerara)
1 bottle (750ml) red wine
1 bottle (750ml) ruby port
8 cloves
3 cinnamon sticks
1/4 tsp ground ginger
1/4 tsp ground cinnamon
1/4 tsp ground allspice
1/4 tsp ground mace
To serve:
1 or 2 lemons, cut into wedges to serve
1 or 2 oranges, cut into wedges to serve
optional – a grating of nutmeg over the top
small bowl of white sugar for guests to individually sweeten the Bishop
Smoking Bishop Ingredients
Smoking Bishop Ingredients
Recipe Method:
The day before: bake the large oranges and lemons in the oven on a shallow baking tray (with a lip to contain any leaking juice) on a low heat at 120°C until they are pale brown (after about an hour and a half). If any liquid leaks from the fruit when baking pour this from the tray into the bowl with the fruit and wine.
Making The Smoking Bishop - Baking The Fruit In The Oven
After the fruit has baked in the oven stud the oranges and lemons with one of the cloves pricked into each, place into a large bowl, add the ground ginger, cinnamon, allspice, and mace. Add the sugar and pour in the wine – but not the port or the cinnamon sticks. Stir gently for a few minutes. Cover and leave in a warm place overnight or for 24 hours.
Making The Smoking Bishop - Mulling The Baked Fruit In The Wine
The next day: cut the baked oranges and lemons in half and squeeze all the juice into the spiced wine in the bowl. Do not worry about adding in the pulp and pips, this will be strained through a sieve next.
Pour this wine, fruit and spice mix through a sieve into a large saucepan, use the back of a spoon to press out the juice from the pulp in the sieve. Then add the cinnamon sticks. Heat the wine to a high simmer for 5 minutes, then turn down the heat under the saucepan and add the port and heat for 20 minutes very gently (so as not to boil away the alcohol). In the last two minutes turn up the heat to a medium simmer and get the Bishop 'smoking' hot with vapours rising.
Making The Smoking Bishop - Straining The Fruit, Putting In The Port & Heating
Following the advice given in 1836, "sweeten it to your taste, and serve it up with the lemon and spice floating in it" – taste the Bishop and add in a little more sugar if it is needed. Although I prefer to serve it as it is and supply a small bowl of white sugar with a spoon so guests can sweeten their own Bishop.
When the Bishop is hot through and 'smoking' pour into a heat-proof punch bowl or serving jug (including the cinnamon sticks) with fresh cut wedges of lemon and orange, and serve in goblets, or heat-proof glasses, and drink warm – optional, take the advice from Eliza Acton in 1845, either grate a little nutmeg on top of the Bishop in the serving jug or bowl, or as I do, grate it individually on top of the Bishop in the glasses if people request it.
***
An Original Bishop Recipe 1836
'Tales of the Table, Kitchen, and Larder', By Dick Humelbergius Secundus, 1836
Among the " Oxford night-caps," bishop appears to be one of the oldest winter beverages on record, and to this very day is preferred to every other, not only by the youthful votary of Bacchus, at his evening revelry, but also by the grave Don by way of a nightcap. It is not improbable that this celebrated drink, equally known to our continental neighbours under the somewhat similar name of bischof, derived its name from the circumstance of ancient dignitaries of the church, when they honoured the university with a visit, being regaled with spiced wine.
Glasses Of Smoking Bishop
Glasses Of Smoking Bishop
RECEIPT, OR RECIPE, TO MAKE BISHOP.
Make several incisions into the rind of a lemon; stick cloves in these incisions, and roast the said lemon by the fire. Put small but equal quantities of cinnamon, mace, cloves, and allspice, and a race of ginger, into a saucepan, with half a pint of water; let it boil until it be reduced one half. Boil one bottle of port wine ; burn a portion of the spirit out of it, by applying a lighted taper to the saucepan which contains it. Put the roasted lemons and spice into the wine; stir it up well, and let it stand near the fire ten minutes. Rub a few nobs of sugar on the rind of a lemon; put the sugar into a bowl or jug, with the juice of half a lemon, (not roasted) pour the wine upon it, sweeten it to your taste, and serve it up with the lemon and spice floating in it.
Oranges, although not used in bishop, at Oxford, are, as will appear by the following lines, written by Swift [in the late 1600s] sometimes introduced into that beverage :—
"Fine oranges,
Well roasted, with sugar and wine in a cup,
They'll make a sweet bishop when gentlefolks sup."
When this is put upon the table, there are few, we imagine, who would be found to say, "Nolo episcopari," not even the Bishop of London himself.
An Original Bishop Recipe 1845
'Modern Cookery', by Eliza Acton, 1845
Note: Eliza Acton put this recipe in her cook book in quotes, showing it was taken from somewhere else, if you look at the earlier recipe above from Dick Humelbergius Secundus in 1836 you can see where she got it. She also recommends it can be made with Oranges, which is then not an Oxford Bishop. Eliza Acton also adds in a grating of nutmeg as well at the end.
OXFORD RECEIPT FOR BISHOP.
"Make several incisions in the rind of a lemon,* stick cloves in these, and roast the lemon by a slow fire. Put small but equal quantities of cinnamon, cloves, mace, and allspice, with a race of ginger, into a saucepan with half a pint of water : let it boil until it is reduced one half. Boil one bottle of port wine, burn a portion of the spirit out of it
* A Seville orange stuck with cloves, to many tastes imparts a finer flavour than the lemon.
by applying a lighted paper to the saucepan. Put the roasted lemons and spice into the wine; stir it up well, and let it stand near the fire ten minutes. Rub a few knobs of sugar on the rind of a lemon, put the sugar into a bowl or jug, with the juice of half a lemon (not roasted), pour the wine into it, grate in some nutmeg, sweeten it to your taste, and serve it up with the lemon and spice floating in it."
An Original Bishop Recipe 1862
'How To Mix Drinks', By Jerry Thomas and Christian Schultz, 1862
Bishop.
A favourite beverage, made with claret or port. It is prepared as follows: roast four good-sized bitter oranges till they are of a pale-brown color, lay them in a tureen, and put over them half a pound of pounded loaf-sugar, and three glasses of claret; place the cover on the tureen and let it stand till the next day. When required for use, put the tureen into a pan of boiling water, press the oranges with a spoon, and run the juice through a sieve; then boil the remainder of the bottle of claret, taking care that it does not burn; add it to the strained juice, and serve it warm in glasses. Port wine will answer the purpose as well as claret. Bishop is sometimes made with the above materials, substituting lemons instead of oranges, but this is not often done when claret is used.
Bishop. (Another recipe.)
Stick an orange full of cloves, and roast it before a fire. When brown enough, cut it in quarters, and pour over it a quart of hot port wine, add sugar to the taste, let the mixture simmer for half an hour.
Archbishop: The same as Bishop, substituting claret for the port.
Cardinal: Same as above, substituting champagne for claret.
Pope: Same as above, substituting Burgundy for champagne.